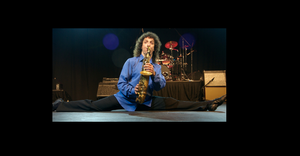 About Dave Panico - The Soaring Saxman
"Considered One Of The Best.."-- UsSmoothjazz
Dave Panico – considered "One of the Best" by US Smooth Jazz – is considered to be Saxophonist Extraordinaire by his fans. Also known as the Soaring Saxman. From the very first note, his music and heart will take you places you've never been. The passion and emotional power that comes from his horn will reach down to the very core of your soul. 
"Dave Panico is talented beyond words but his heart and spirit is what captures you from    the moment he gets up to play" 
-Chane Hutton, AZ-U-R Ministries and Club D-MASK-US 
Unlike some artists who limit themselves to a singular style and set of influences, Dave cites a fascinating array of jazz legends and contemporary greats as having an impact on his own exciting mix of compelling melodies, strong rhythms and transcendent improvisations.  
"I am always looking to do something different with my music. Smooth Jazz can become redundant in its sound, so I like to put a different spin on the music. I am classically trained, having listened and performed with rock and metal bands, played in a reggae band and many more. I like variety and strive for my music to be exciting, dynamic and melodic."
Dave's Influences
Dave's first musical influence was his father. Dave adds, "My parents had a great collection of 1940's big band recordings on 78's I would listen to over and over. Glen Miller, Benny Goodman, Louis Armstrong – "The Good Ole Good Ones" as Louis use to say. I also listened to recordings of Pete Fountain which inspired me to play  clarinet.  By the time I was in high school, the band director noticed my jazz influence and suggested I consider playing sax in the school jazz band. I heeded his advice and started playing baritone sax. I received many compliments because I had that "Tower Of Power" type sound.  
I listened to Spyro Gyra, Tower Of Power, Earth Wind And Fire, Chuck Mangione, Return To Forever and others during my late teens years, along with metal and classic rock. I enjoyed listening to rock guitar leads because I wanted to make my sax scream the same way, and I loved the energy. There have been many times I jammed as a duo with a lead guitarist in band situations. Very Cool." My influences today are Warren Hill, Dave Koz, Benny Carter, Kirk Whalum. 
Dave's Awards
KINGCAT INSTRUMENTALIST AWARD WINNER !!
Dave received the Instrumental Artist of the Year Award both at the 2015  King Cat Music Awards and the 2007 Kansas City Christian Music Awards, along with receiving a nomination for the acclaimed Instrumental Artist of the Year Award in 2008 from IndieHeaven-Momentum Awards, Nashville, TN, Dave Panico is making a "sound" for himself. CCM magazine recognized the talents of Dave Panico and asked for his expertise with a unique article having him iterate about particular brand instruments that allow his sound to come out "smoothly". Dave's 3rd CD "Tasty Treat" is now available and fans around the world are loving it.
Dave's Vision
When asked why Dave is producing and performing instrumental jazz Christian music, he shares,"I would like to see my music minister to folks who need encouragement, healing, or maybe just a lift.  I want the music to reach down to the core of their soul. Being an instrumentalist, I don't communicate the spoken word like most others do, so I want my music to communicate where the word can't.  I want my music not just something that is listened to but something that one can experience. 
Dave's vision is to touch the essence of the inner heart and his mission is to open doors that lead to healing of hardships and struggles in life. His music is  passionate and appeals to all age groups. Dave has also used his music to help battered women, sexually abused children, and the homeless. Dave's discography includes "Tasty Treat", "JoyRid'N" and "Soar" . Dave's singles includes "Rising Up" and his latest single "Hang'n With The Breeze".
I am very passionate about my music and my performances and from what people say it shows. I do give 200% whether it's for a few or a multitude.