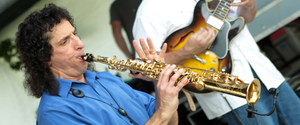 Very nice
Professional. Everything was so special he was in time and we we have a good time
Reviewer: Rene Pitallo
Event Date: February 4th, 2023
Services Provided: Saxophone Player
---
Definitely a Re-Hire
Professional. The audience was very pleased with his performance. Some even commented he reminded them of Kenny G. I'm glad he was our choice for the event.
Reviewer: Dale Hill
Event Date: October 18th, 2022
Services Provided: Saxophone Player
---
Absolutely Great
We couldn't have asked for a better entertainer. Dave brought all the equipment we needed to entertain our house full of guests. Our party was around 30-40 people and I think every one of them made it a point to say how much they enjoyed Dave and his music. Will be booking again.
Reviewer: Austin Rohr
Event Date: December 18th, 2021
Services Provided: Jazz Band, Saxophone Player
---
Amazing musician- made the party!
Dave was very professional through the process. He really knows how to set the mood for a good party. He was very friendly and works the crowd. I'd highly recommend.
Reviewer: Matt Dodge
Event Date: December 11th, 2021
Services Provided: Saxophone Player
---
Fan Comments
Hey, I just want to thank you for your existence
.  I'm not able to find words for the feeling I have when I listen to your songs.
-- Geneva, Fan
First of all, your music is so inspiring
.
The kind of stuff that can help you get through those really rough days, 
-- Jo, Fan
Hi Dave, You're amazing, talented, and your music shows it
. You work so hard and everyone knows it because everyone can feel it in your music.
You're so inspirational, and Thank you for that.
-- James, Fan
"The saxophonist extraordinaire executes dynamism, expertise, and creativity,...."
STACEY ZERING, RootsmMusicAuthority
"
Thank you Dave
, because magic may not be real.. but your songs are truly magical!"
- Irma Geiger, Fan
"
Considered One Of The Best
.."
- ussmoothjazz, ussmoothjazz
"
A positive "feel-good" sound!
It makes you want to get healthy and stay that way! "
- Rebecca Huseby. Fitness Center
"
Dave Panico is talented beyond words
but his heart and spirit is what captures you from the moment he gets up to play. I always keep Dave in mind when I am booking events for Club D in Lee's Summit."
- 
Chane Hutton, AZ-U-R Ministries and Club D-MASK-US