What's happening with Dave Panico ....
Greetings and Happy Easter
Man, the weather is getting nicer and the grass is growing. I'm going to have to start cutting grass..
I'm still out performing at The Iron Horse Grill a couple times of month. If you haven't checked it out, please do so now that the weather is getting nicer. It's a nice atmosphere out on the deck with some great food and some great jazz music. I've been adding songs to my set list of all varieties so please come and check it out.
I just recently saw my Daughter Eleanor perform her Senior showcase, (singing and dancing), at college. She's a musical theatre major and will be graduating soon. A very talented young lady. She did a wonderful performance. I'm glad I'm her dad. You can check her out at https://www.eleanorpanico.com/
Check out the Soaring Sax Store!!!
I opened a store in where you can purchase bundled music, private concert, or some FREE merchandise. Please be sure to check it out if you already haven't. Also, the website has a new look and feel. at: https://soaringsaxman.com/soaring-sax-store
If you would like to see something there, as far as merchandise, please let me know.
BECOME ALIVE!!!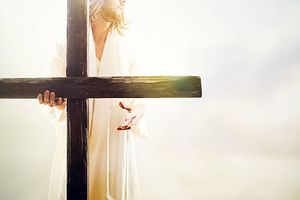 We approach one of the most joyous times of the year to remember and to celebrate. Many tend to ignore Easter and its meaning. We love to celebrate the earthly seasons like, Valentines, Halloween, and the commercial side of Christmas. But what about Easter?
Many people plan for the future with 401k's. But how far in the future do you plan for? 401k's only stay on earth. What about planning for your life after you leave the earth? Yes, there are great treasures that await…
This is where Easter comes in. Easter is about the ultimate superhero (GOD) conquering the Biggest Bully (The Devil). This happened by CHOICE, and it happened on a cross. You see, humans are sinful people. We are born into sin and can't escape it. The sin divides us from God and brings us closer to the Devil. The throne room of heaven cannot have any sin whatsoever which created a problem for God. God loves people and that's why he created you and me. He wants to spend eternity with you and me in Heaven, so the sin needed to be dealt with. The cost for the sin is blood. Not any blood but blood from one who has no sin. So, Jesus out of compassion came and paid that price for blood out of Love. The devil tried to destroy him at the cross but couldn't. Jesus conquered death and the debt of sin has been paid if you are willing to accept it.
Here's an interesting quote from FREDERICK BUECHNER
"And now brothers, I will ask you a terrible question, and God knows I ask it also of myself. Is the truth beyond all truths, beyond the stars, just this: that to live without him is the real death, that to die with him the only life?"
Is it possible that we may be alive but dead? If we don't have Jesus, what then is there other than temporary pleasures of earthly things?
Read Romans 8:11
And if the Spirit of him who raised Jesus from the dead is living in you, he who raised Christ from the dead will also give life to your mortal bodies because of his Spirit who lives in you.
You see God wants to share his Glory with you. He will raise you just as he raised Jesus from the dead. And as far as the treasure that awaits: Here it is in Matthew 6:19 -20
Do not store up for yourselves treasures on earth, where moths and vermin destroy, and where thieves break in and steal. But store up for yourselves treasures in heaven, where moths and vermin do not destroy, and where thieves do not break in and steal.
So, live your earthly life with and for God and then you will see great treasures in Heaven when you really become alive.
Be Blessed
THANK YOU SO MUCH for the letters and the support this past year. I appreciate you and your comments. Please continue pray for our leaders and the medical community. Also be safe and please take precautions to keep others safe.
Sincerely